After 17 years of development and services enhancement, Hong Ngoc General Hospital has become the reliable address for millions customers. The hospital consists of 25 medical departments meeting all demands and healthcare needs of patients.
List of 25 departments
Gastroenterology and Hepatology
Physiotherapy and Rehabilitation
17 years of building trust
Hong Ngoc General Hospital is one of the first hospitals in Northern Vietnam to follow the model of high-quality hotel-hospital. After 17 years of development, the hospital has become a renowned medical provider offering people with modern treatment methods, high-quality services and an array of utilities. The capacity of specialists and medical staff has been also enhancing to perform the most comprehensive services.
From the first hospital at 55 Yen Ninh, Ba Dinh, Hanoi, up to now Hong Ngoc General Hospital has opened its network by operating 5 clinics. Moreover, in the first quarter of 2021, Hong Ngoc is planned to launch a new 16-storey hospital. Designed in a luxurious style, this new hospital covers an area of 70,000m2 and consists of 750 beds.
This is the clearest proof of the hospital's progress and huge trust that customers put in Hong Ngoc General Hospital.
25 high quality departments offering hundreds services
Now, Hong Ngoc General Hospital is operating 25 departments, each having specific roles and functions, ensuring to provide customers with full of medical services from outpatient to inpatient treatment and from disease screening to spa and beauty services.
All these departments are heavily invested in both human resource and equipment. In particular, human factor is the key. Hong Ngoc is home to leading specialists who are highly qualified and have great experience working as Head/ Deputy Head of department at big hospitals such as Bach Mai Hospital, National Pediatrics Hospital, Viet Duc Hospital, and more.
The team of leading specialists help accurately diagnose health problems that patients are facing with as well as decide the most appropriate treatment for each case so they can recover soon.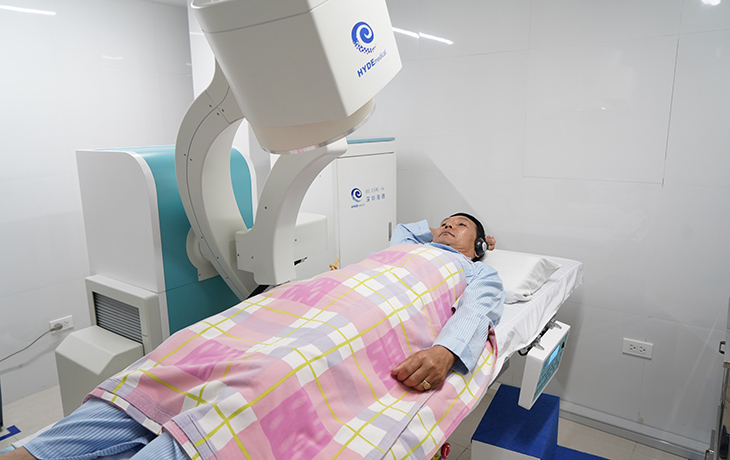 In parallel with enhancing the capacity of medical staff, Hong Ngoc General Hospital has constantly invested in modern facilities and machinery systems to have exact examination results. Most of equipment and machines are imported from the leading manufacturers in Germany, US, Japan, South Korea, and so on.
In addition, rooms and hospital's space are always kept clean and airy, satisfying all customers.
Another key factor contributing to the reputation of Hong Ngoc in the past 17 years is the professional and dedicated team of receptionists, nurses, and physicians. Their caring way of delivering services has brought peace of mind to patients during their stay at Hong Ngoc General Hospital.
Several images of key departments:
For further information, please contact:
Hong Ngoc General Hospital  – Yen Ninh
Add: 55 Yen Ninh, Ba Dinh, Hanoi
Tel: +(84-4) 3927 5568 ext *0