Comprehensive care of experienced obstetricians and enjoyable postpartum hospitalization at luxurious room are two of numerous privileges that pregnant women can experience when they take prenatal check-up and give birth at Hong Ngoc General Hospital – My Dinh.
Large scale, advanced equipment and 5-star hospital rooms
Obstetrics Department is the leading department Hong Ngoc General Hospital – My Dinh (also called Hong Ngoc – Phuc Truong Minh General Hospital) and is heavily invested in both services quality and medical facilities.
An array of advanced equipment including Voluson E8 ultrasound system with smart technologies that help early and accurately detect fetal anomalies, Phillips Avalon fetal and maternal monitor with high accuracy, and more are imported from GE Healthcare Systems – the US's leading global medical technology, diagnostics, and digital solutions innovator. Therefore, customers can completely put your trust in us to have a safe and comfortable pregnancy and delivery.
The number of postpartum hospital rooms at Hong Ngoc General Hospital – My Dinh is also doubled to 31 rooms with an arrange of room types from VIP, Deluxe, Single, and Double, allowing customers to choose the most appropriate options for themselves. All these rooms are set in a fresh green space with full of natural light, bringing peace of mind to women after giving birth.
In addition, each hospital room boasts a locker with security code, a personal refrigerator which is regularly cleaned and sterilized, bathroom meeting 5-star standards, and an Entertainment Unit – a smart screen featuring numerous functions and connected with Netflix, all brining enjoyable experience to postpartum women during their time at Hong Ngoc General Hospital – My Dinh.
Safe and comfortable birth delivery with the support of dedicated and highly qualified specialists
The Obstetrics Department of Hong Ngoc General Hospital has always been renowned for the team of highly qualified and experienced specialists who have been trusted by thousands of customers. They are Meritorious Doctor. MD. Bui Xuan Quyen – former Head of Obstetrics Department of Hanoi Obstetrics Hospital with more than 40 years of experience; Level 2 specialist Do Van Tu – former Deputy Head of Obstetrics Department of Phuc Yen General Hospital and trained at Tu Du Hospital; Meritorious Doctor. MD. Phan Van Quy trained in UK and having 32 years of experience working at Vietnam National Obstetrics Hospital; and more.
During the past 18 years, more than thirty thousand babies have been born healthy in the loving embrace of doctors and nurses at Hong Ngoc Hospital.
In 2021 when Hong Ngoc General Hospital -My Dinh comes into operation, the team of doctors at the Obstetrics Department will continue to accompany mothers on their unforgettable journey of pregnancy and delivery.
Outstanding facilities and high-end services at the 5-star hospital
With a total investment of thousands VND, Hong Ngoc General Hospital – My Dinh is developed as a smart hospital covering an area of 2.5 hectare, consisting of 250 inpatient beds and having capacity of 2000 examination visits each day. As a leading department of the hospital, the Obstetrics Department will be truly a "paradise" for pregnant women to enjoy their pregnancy checkup and maternity services.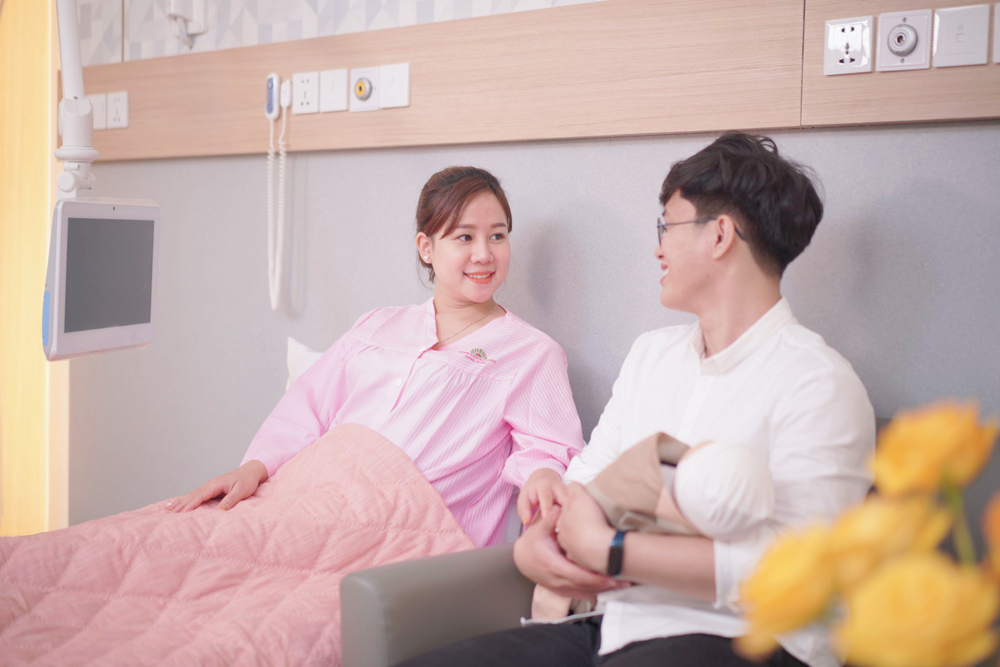 During hospital stay, customers and their beloved family members are invited to enjoy an array of utilities of the smart hospital such as Gym-Yoga-Spa system, the first hydrotherapy pool in Vietnam, restaurants, cafes, convenience store and 24/24 minimart, and more.
Hong Ngoc General Hospital – My Dinh is going to launch in March 2021, welcoming the first pregnant women to experience all of mention above highlights.
For further information, please visit https://en.hongngochospital.vn/maternity-services/