To enhance the quality of examination and treatment services provided at the new branch which is planned to launch in the first quarter 2021 in My Dinh, Hong Ngoc General Hospital has spent hundreds of billion dong on advanced medical equipment and machinery systems supplied by GE Healthcare System – the US' leading healthcare corporation.
The strategic cooperation with GE Healthcare System
Hong Ngoc General Hospital has been considered as one of the most renowned private hospital in the North of Vietnam for year. In the first quarter of 2021, the hospital will officially open its new branch called Hong Ngoc General Hospital – My Dinh, marking a significant milestone in its journey of development.
The hospital's development is not only proven by the increasing number of clinics but in the quality of medical services.
Apart from a team of highly qualified specialists including experienced experts and well-trained young doctors, Hong Ngoc General Hospital has hugely invested in equipment and facilities.
The cooperation of Hong Ngoc General Hospital with GE Healthcare System has enabled the hospital to imported the most advanced medical machines and devices from the US. An array of advanced machines such as 128-array CT scanner, 1.5 Tesla MR, E8 ultrasound machine, and more are provided by GE to enhance the quality of examination and treatment at Hong Ngoc General Hospital – My Dinh
Advanced medical equipment at Hong Ngoc General Hospital – My Dinh
The first one to mention is the SIGNA Creator 1.5T MR system. The use of highly homogeneous superconducting magnet allows the device to create large resolution 3D images. This is the best diagnostic imaging device to help detect tiny lesions in soft tissues in liver, kidney, heart, lungs, nerves, blood vessels, and even properly and early assess the tumor status if any.
Another striking feature of the SIGNA Creator 1.5T MR is that this system does not use radiation or barium enema, bringing no side effects to patients. Therefore, it is safer and superior to the X-ray or CT-scanner.
The Revolution Evo Gen 2 also known 128-array CT scanner is one of the most advanced imaging diagnosis equipment with much more advantages than the 66-array CT scanners which are popularly used in Vietnam.
With high resolution and less noise images, the Revolution Evo Gen 2 helps specialists detect abnormalities as small as 0.24 mm in heart, lung, colon, or microscopic organs such as blood vessels, airways and even monitor cancer progression.
Better still, the system can calculate the right radiation dose for the right patient as well as include pediatrics mode which is safe for children.
The Voluson™ E8 is one of the world's most advanced ultrasound system used in numerous large hospitals.
With GE's breakthrough technology – HDlive, the Voluson E8 provides real time high-resolution 4D imaging, effectively support doctor in monitoring and evaluating fetal development, especially detecting complex malformations at an early stage of pregnancy.
The function of image enhancement with echo quality improvement allows specialists to have a detailed view of the fetal cardiovascular system, assess arrhythmias, and measure fetal cardiac function much better than with other common ultrasound models.
Not only focusing on imaging equipment Hong Ngoc General Hospital has also hugely invested in machinery systems that support treatment, monitoring and providing comprehensive health care services for patients, especially infants and the elderly. They are:
B105, B125 and B450 CARESCAPET patient monitors,
MAC 600 Testing ECG Machine
BiliSoft LED Phototherapy System
9100c NXT flexibly and accurately responds to anesthesia requirements, enables specialists to effectively deliver anesthesia and fast seamless recovery with suitable dose of anesthesia for a wide range of patient groups and surgical procedure
CARESCAPE™ R860 Ventilator is the GE's latest ventilator models that helps doctors to monitor patient survival indicators. The machine meet all specific requirements for all group of patients, especially infants.
Giraffe OmniBed is an optimal support device to care for and protect your infants in the early days of birth with warm, comfortable, and high safety conditions.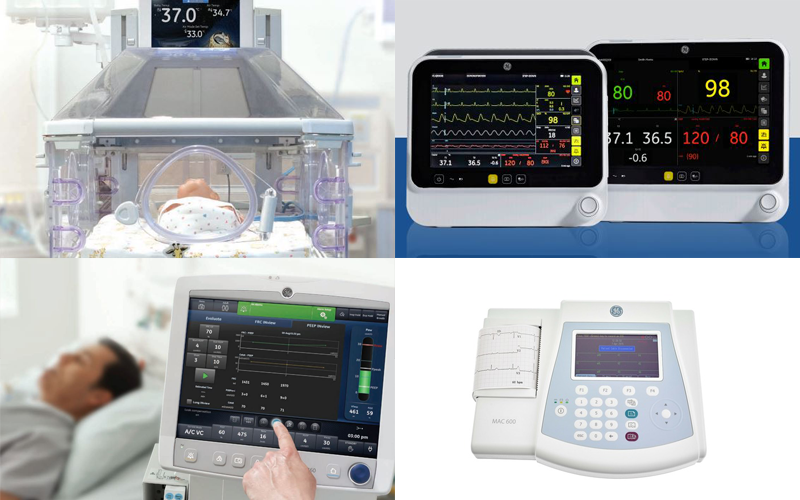 With the support of advanced modern medical equipment, Hong Ngoc General Hospital – My Dinh would be the No.1 choice for locals for healthcare needs.
Follow our official fanpage for further information and updates: https://www.facebook.com/BenhvienHongNgoc/